Wedding Photography
My style of photography as a professional wedding photographer is very relaxed,
natural, unrehearsed and REAL! I'm not one to try and pose a certain way or recreate the images of anyone else. I like to keep it original and be in the moment of YOUR WEDDING and what is naturally unfolding. The more you try and create a certain image, the more you are taking away from what is actually going on. I want my clients to choose me for me and the style that I create and capture,
not for any other reason.
I have built amazing relationships with people purely based on photo shoots because they have allowed themselves to become comfortable around me. Let's face it, sometimes getting your photo taken can be scary. I know! I'm cool with taking time and respecting that it's not that easy. As a professional wedding photographer however, you can rest assured that the process – no matter how uncomfortable you may feel initially – is really straightforward. And the best part? Your wedding photography
comes out looking stunning.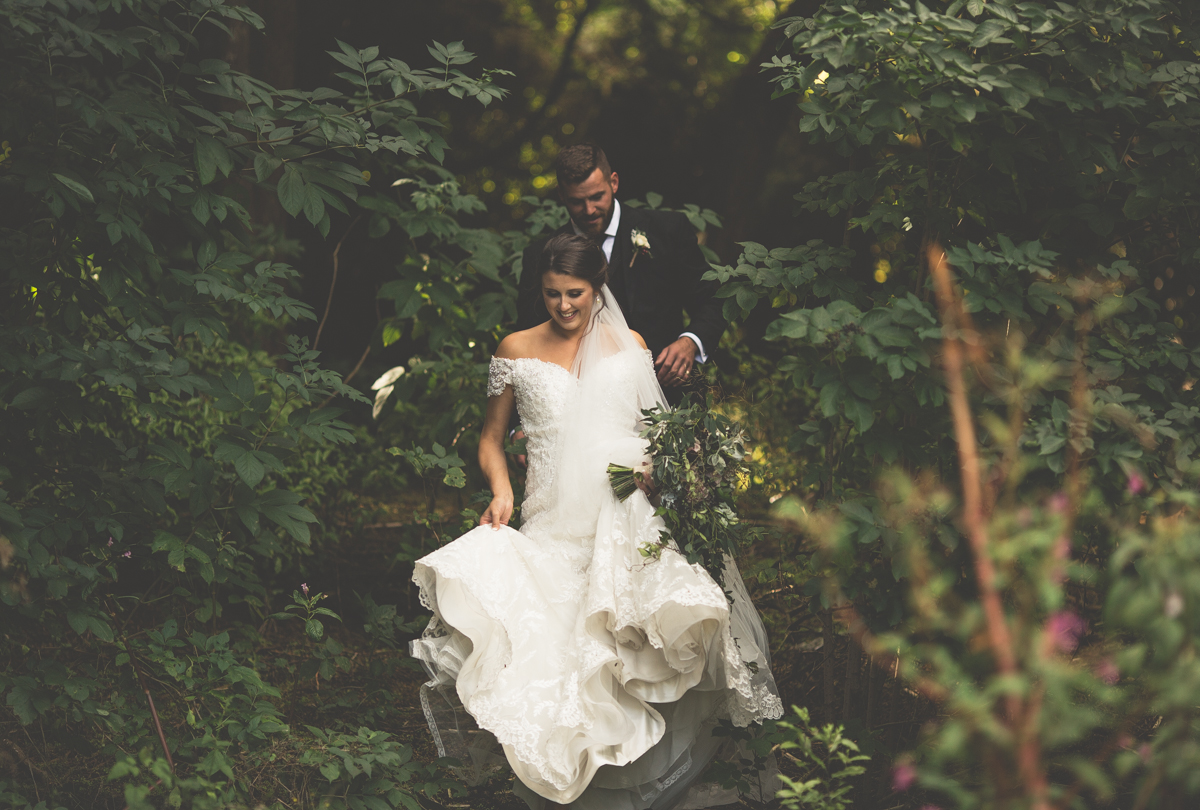 Observing occurrences, expressions and light!
Nostalgic Photography is all about observing NATURAL occurrences, expressions and light!
For your wedding day, you want to hire a professional wedding photographer who stands back and lets the day unfold.
The best professional wedding photographers are those that are able to strategically capture events without letting anyone know they are being photographed. The best photos I have ever taken are the ones that people are oblivious to. This also leaves a nice surprise on the delivery of your wedding photos! I always make sure we do a few posed photos. It's inevitable and we need them but the rest is an authentic representation of your wedding day. To me this is just how it should be!
A true professional wedding photographer captures the moment, they don't create it.
Hiring Nostalgic Photography as your professional photographer for weddings, ceremonies and elopements is easy.
As your professional wedding photographer, let me firstly tell that there's no right or wrong way to format your wedding photography!
Sure, my experience in wedding photography can help any couple getting married, but I am more than happy to take on board your suggestions and requests for how you want things to play out! When you consider Nostalgic Photography as your professional wedding photographer of choice, you are opting for a stress-free experience and some great wedding photography! I go with the flow and the outcome is natural, non-staged wedding photos that are cherished forever.
So what's the process? How do you make me your professional wedding photographer? It's pretty easy! Firstly, you give me the details for your wedding so I can give you a price for my services. Once you're happy with that price, we can meet up to discuss plans, share ideas and visions. If you need help, recommendations or advice, I'm more than happy to help! We also work out how long we will spend on your wedding photography – location dependent.
As it nears the big day, I'll send you an interactive PDF to fill in information so I can make a plan. This will include times, addresses and bits and pieces like that! Then I will see you at your wedding rehearsal! I like to attend as many of these as I can.
At your wedding rehearsal I will:
Meet your special friends and family to learn who will be appearing in photos.
Find my hidden wee spots to take photos from without getting in the way!Locate where the bride will
walk down the aisle, and where the bride and groom will be located.
I then like to take pictures of the bride and groom getting ready. The 'getting ready' wedding ceremony photography include the bride and her bridal party, and the groom and his groomsmen. By taking these photos at that point, it gives us more time to take the bridal party wedding photos! As a professional wedding photographer, I also recommend that for some people it could be a great option to get the majority of pictures taken before the ceremony. In my experience, they look fantastic!
Once you've said 'I Do' and the ceremony photography has been completed, it's time for the group pictures! Not all couples opt for the group pictures, but they are a great way of remembering who attended your special day. While you're talking to your guests, I take the opportunity to suss out the best spot for the group picture, and the family picture.
This includes making sure the sun (if it's out) is in the right spot!
Following on from the family and group photography, we then do the bridal party shoot, followed by reception. As a professional wedding photographer I aim to make the entire process stress-free and straightforward. This ensures memorable photography you can look back on and smile – knowing you were relaxed, happy, and full of love and laughter!
Frequently asked questions about
my wedding photography
How many photos will I receive?
This is at the top of the list for me because I have an answer to cover most commonly asked questions.... a contract! This is the best way for you to know exactly what you are going to receive with your wedding photography. It's all in there and we will go through this together. For a full day, which includes getting ready for your wedding until the the first dance at your reception, you will receive approximately 500-600 images on a USB drive or private download if you prefer.
How many locations can we go to on our wedding day?
Normally the ceremony and reception venues are so beautiful we can get most of the bridal party photo shoot completed at these venues. If your schedule has allowed extra time in the day to travel then we will travel! My only advice is to try and keep it close because we want as much time as possible to take photos rather than travelling to locations. I am willing to travel to any special place desired by my clients so long as we have planned the time for it.
Will you attend the wedding rehearsal?
Better than that, I'll even take a few photos while I'm there!
I attend every wedding rehearsal. This means I know where you will walk, what special spots I can find for photos and also most importantly to me, meeting the special people in your life. It's so important for me to know who everyone is. If I know who your immediate family or VIPs are then I know who to focus on the most for your wedding day. The key to the best wedding photography is the ability to capture photos that will mean the most to the couple. The wedding rehearsal is also a great time for any last minute questions or requests you have with me about your wedding photography.
Do you Travel
I am happy to travel! My partner and I love to travel to weddings throughout Southland, Queenstown, Wanaka and Dunedin. We live is such a special part of the world with the most amazing scenery. I enjoy exploring new locations for wedding photos and I research great spots for your day before it all unfolds.
Do you shoot weddings alone?
I do! If you feel like you have a wedding day that needs some extra coverage or would just prefer to have a second shooter then I do have some trusted, artistic pals who join me for the coverage of your wedding day photography.
What do I get at the end of my day?
I have never been one to sell individual files. However, I do go though the thousands of images and get rid of all the unflattering ones, or ones with people with their eyes shut! I find the best from the day and I professionally edit them in the same style you will see throughout my website. As any professional wedding photographer does, I take care with every image and spend as much time as it takes to tweak, crop and photoshop until I am happy with the end result. I will also give you out-takes from the day - photos that may not be technically correct but images I know you will love or find humour in.
I am not stingy with my files and always make sure I give you as many as I can.
I also design photo books which are printed beautifully and designed to show a timeline of you day. If prints are what you are after, I print my photos onto plywood or canvas. These make great gifts, or are perfect for hanging in your home as a reminder of the special day you had.
How long will we wait to see out wedding day photography
I know you are ecstatic about seeing the creation of your wedding day! I understand the excitement, so within the week of your wedding I will send you a few of my favourites from the day. From there my editing process takes 6 - 8 weeks. Again, this is all in the contract and you will know exactly what you are going to get in your initial meeting with me..
What sort of photographic gear do you use?
OK, this is not a common question but I feel the need to address this for people who do know camera gear and know the importance of quality equipment. This is what I bring to a wedding day as a professional wedding and ceremony photographer.

Cameras: Canon 5D Mark III and a Canon 6D
(I carry two amazing professional cameras and shoot with both the whole day)

My lens range: Sigma 10-15mm fish eye, Canon L series 35mm 1:4, Canon L series 24-105mm 4:0,
Canon L series 135mm 2:0, Sigma 85mm 1:4, Canon L series 24-105mm 4:0 zoom lens.This all pretty much means I can cover your day from every level. This includes being up close, or at the back of a room or venue in order to avoid being intrusive. For your peace of mind, I even have professional gear that backs up your images twice and produces amazing quality images.